For Queen Katherine school uniforms, please go to the online shops page and follow the link.
From small rural schools to large comprehensive schools, our aim is to make it as easy as possible to supply school uniform as and when pupils require.
By using our online shop facility (see on-line shop page) parents can place orders & pay on-line, which we will then deliver free of charge to the school, or for an extra cost, deliver to their home.
Each order for an individual pupil will arrive in a separate bag with their name on (see pic below)
Examples of school logos and a photo of an individually bagged uniform order ready to be dispatched



Garment Performance Guarantee
We ensure that all our garments are colourfast and fade resistant, wash after wash, throughout the school year.
To ensure that our garments withstand the harshest of treatments in the playground and the laundry, we only use superior fabrics and the best garment construction techniques available.
Our wash and wear tests have shown that our uniforms consistently maintain their shape better than competitive brands.
We guarantee our parents and students will be satisfied with their uniform for the whole school year. We offer the following no quibble returns policy.
We will exchange any School gear garment purchased within the current school year which does not meet performance expectations if we agree the any damage or wear & tear is due to the garment being faulty
Continuity of Core School Styles and Colours
We guarantee to maintain our core school styles and colour range, year after year. please see each style for their core school colours.
Ethical Code
We support the highest standard of ethical manufacturing.
Delivery Times
October - August 7/10 days
September 14 days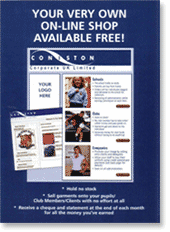 Click here to view our online shops pdf